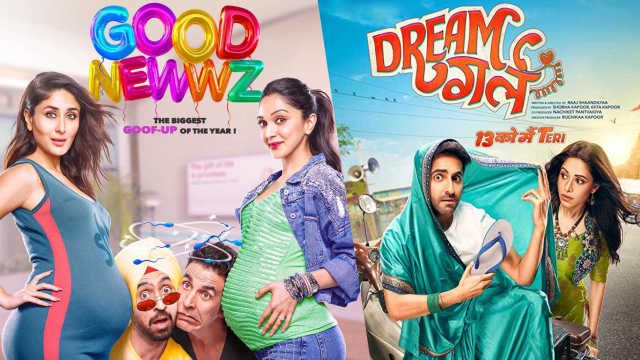 After receiving significant response over the re-release of Baaghi 3, filmmakers of Good Newwz and Dream Girl want to re-release the films in UAE cinemas.
COVID-19 has been an impactful part of our lives ever since it started. It somehow managed to halt the flow of normalcy around us. The film industries altogether were affected. As cinemas and movie theaters were closed, the global box office dropped a billion dollars.
Things are being standardized and many countries are lifting their lockdown that was being imposed. UAE in general decided to open its cinemas and theaters and re-release both popular Hollywood and Bollywood movies. Baaghi 3 which threw every possible trick to be categorized as one of the entertainment films of Bollywood received positive feedback after its re-release, which indirectly encouraged several filmmakers to re-release their SUPER HIT piece of work.
Two Bollywood movies namely Good Newwz starred by Akshay Kumar, Karina Kapoor, Kiara Advani, Diljet Dosanjh, and Dream Girl starred by Ayushmann Khurrana are scheduled to be released on June 11. 
According to Bollywood star Akshay Kumar this news brought a sense of contentment to him, his films had received positive reviews and critics in the past, people in Dubai (The city in UAE) had always shown appreciation towards his work, given love to his films, gained satisfaction and gaiety from his performance. He hopes to entertain the audience in such troublesome time and could manage to retain his mark through his acting services.
He couldn't be more voracious about it, his work had always made everyone laugh, spreading cheers, jubilation, hilarity through his films, and with that giving a genuine moral to everyone. Such colors are very much needed back in our lives, with a riotous pattern of events going on out there and unwanted stress lingering on our heads, such funny films can be a greater step towards what we once called NORMAL LIFE.
 Vibha Chopra global syndication and international Film distribution head, Zee Entertainment gave her two cents on this news, for her this is a splendid opportunity for the community that has been living in isolation for so long now, to really come out of their shells and enjoy the film on a big screen, keeping health and safety as their priority. The release of two HIT Bollywood films could be a healthy change for both the people out there and for the film industry of India, which like most of the other film industries, suffered a loss due to this pandemic.  
Both the films had made 100 crores in the domestic box office, the first-mentioned film GOOD NEWWZ directed by Raj Mehta revolves around the Idea of in-vitro fertilization, sperm samples getting swapped and how the two couples deal with such situation.
The second one DREAM GIRL revolves around a man who pretends to be a female and actually earns a lot of fortune through this.  
With storylines so hilarious, and the script is so well written, the presence of an amazing cast and incredible performances ahead, how can anyone stop their own selves from watching and re-watching such mind-blowing films? In this isolated time, all we need is joy and care, which is what films give.