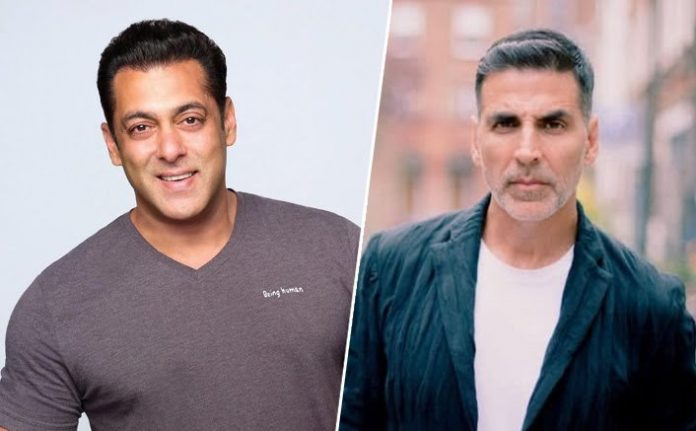 Salman Khan's Radhe and Akshay Kumar's Prithviraj instead of Sooryavanshi will hit the cinemas together this Diwali, as the release date of films has been fixed to clash the Box Office with superstars.
Bollywood industry has some limelight spark that it has always been successful to turn people's attention towards it as it keeps coming up with sparking blockbuster movies starring superstars like Salman Khan, Shahrukh Khan, Akshay Kumar and many more in.
A little bird told us Salman Khan's Film Radhe is in its final touch ups with remaining shooting pieces of film that was halted because of ongoing pandemic, now will be completed in Mumbai and expected to be released on  Diwali festive.
It was said Salman Khan's Radhe and Akshay Kumar's Lakshmi Bomb were to be all set to hit the cinemas this Eid but situation did not allow to make it happen, but there are no worries for the Superstars fans as both the films have been rescheduled  to be released on Diwali festival. Akshay and Salman are ready to be clashing with bang. Let us see who will garner the spectators' attention in cinemas, and who will be the one who will leave long lasting impressions in fans minds.
On the other hand, Yash Raj Films production is also looking forward to featuring Akshay's another movie named Prithviraj on the same date. This seems to be a tough confrontation between Salman and Akshay as YRF is acknowledged for delivering super hit movies so far.
Remaining parts of film will be completed in the perimeter of the studio with less staff members and technicians, keeping the troublesome situation in consideration.
Back in March, it was thought Akshay's Sooriyavanshi will be confronting Salman Khan starrer Radhe but now it has been clearly disclosed that Radhe will be countering Yash Raj Films' Prithviraj. 
Sooriyavanshi was scheduled to be released on March 27, 2020, the leading role was given to Akshay and Katrina that is directed by Rohit Shetty the filmmaker of laugh buster Golmaal series. Now the release date for the movie is not known yet. 
Moreover, Radhe movie has been directed by Dancing King and Director Prabhudeva, and Disha Patani featuring the leading lady role along with Salman Khan.