Facebook does not confront Trump's post regarding the Minneapolis demonstration. This move of social giant Facebook's CEO Mark Zuckerberg, angered many of the people even, he himself does not support Trump's post.
However, Twitter Head Jack Dorsey shows the strong contrast as he labeled Trump's comments as 'glorifying violence.'
Zuckerberg on Friday said the post from Donald Trump's account will not be removed as it does not breach the platform's policies.
On Thursday night, Trump had exposed his sentiments for the Minneapolis protest event, the tweet was labeled violating rules about glorifying violence, and the content written by Trump was replaced by the public interest notice.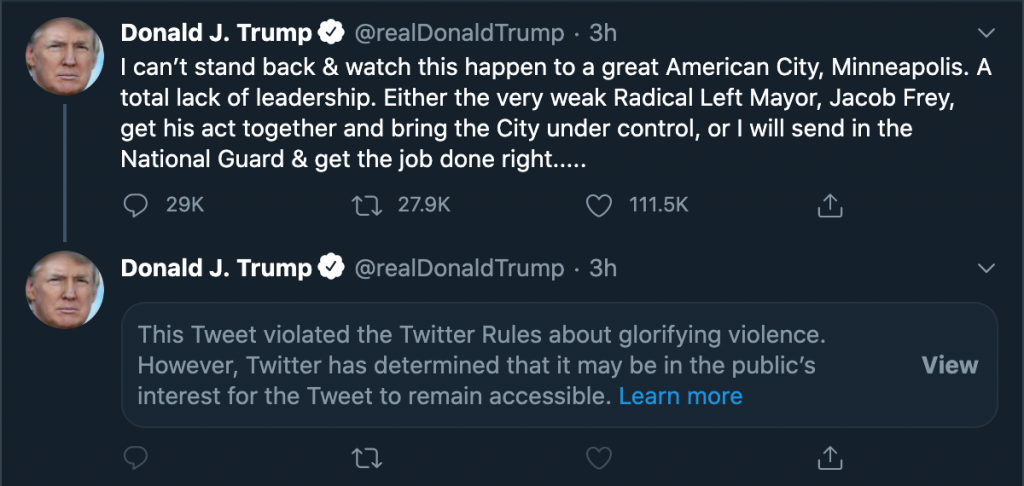 On Friday, Zuckerberg defended his decision of letting Trump's post online saying he would not take any action against the substance expressed by Trump. Moreover, he said, he knows people are uncomfortable with this decision but the company's policy is to let people share their opinions and ideas unless it causes an imminent risk of a specific danger.
Zuckerberg also said against Trump's remarks over the above-mentioned event, saying: "Personally, I have a visceral negative reaction to this kind of divisive and inflammatory rhetoric … I am strongly against how the president spoke about this, but from my perspective, people should come up with their own stance and analyze what he said because eventually, the best accountability comes when people show their criticism on people who are in power."
However, much of the workforce of Facebook do not agree with their CEO's decision and seem displeased with how Zuckerberg could leave Trump's post up while the post has violated the rule.
Some of the workers want their CEO to review his decision and take convenient action against the controversial post from Trump.
Zuckerberg in an interview pointed out Twitter for its move said, platforms like theirs should not judge what people express on platforms. Later, Twitter Executive Jack Dorsey counterattacked to Facebook's CEO's stance, saying platform will move on to pointing out disputed or any controversial piece of information being shared on the platform in order to ensure safety. And "we own mistakes we make" in the process.