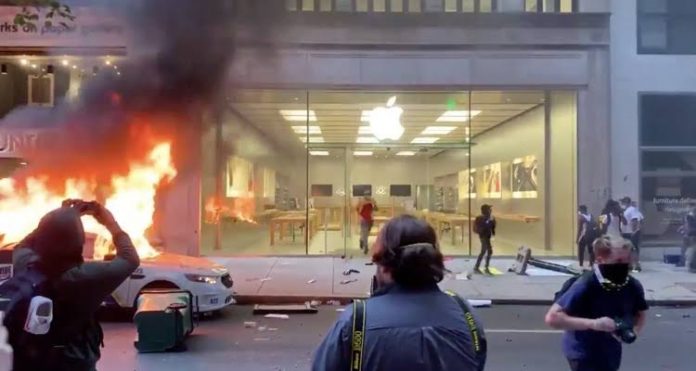 Looting incident took place last week in the US after the beginning of protests nationwide following the death of George Floyd. Apple has started tracking looted devices from Apple franchises all over the US.
Apple now started tracking the stolen iPhone devices amid the on-going demonstrations in US began after the murder of a Black man in Minneapolis by the white Police Officer Derek Chauvin along with three more officers.
Twitter users have taken the stolen phones images to the platform that were looted from US stores. As per the posts, images of phones read the message "Please Return to Apple Walnut Street."
Looted devices have been disabled by the company as the message further reads "This device has been disabled and is being tracked. Local authorities will be alerted."
However, it is not obvious till now whether the firm has given location information of stolen phones to the local police authorities.
Apple devices that are on display in stores come with pre-installed tracking softwares that help tracking the phone when they get stolen as iPhons are unable to be used out of the boundaries of the Apple stores.
After two months of shutdown due to pandemic, the company decided to reopen 100 of its stores located in the US. After reopening, Apple had to face the looting incident right after the killing of Black American, the resident of US, and amid protests countrywide caused the stores to be looted in different cities of the country.
Besides Apple franchises, stealers targeted more other high profile stores and reportedly stole the products worth up to US$85,000.
The CEO at Apple Tim Cook sent an official note to his workforce in which he condemned the incident that happened in the US and assured his employees the Black Lives Matter to Apple and black are as valued as white people at Apple firm.