Braunau am Inn is a town located in Upper Austria, which lies on the border area near Germany, it is considered to be the birth place of Adolf Hitler. This yellow corner house of Austrian town, where Hitler was born is fated to be neutralized into a police station by the year 2023.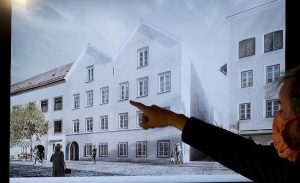 Austrian architecture firm Marte.Marte which won a competition held on European level to redevelop this property unveiled their plans of remodeling amongst 12 candidates to alter the course of this building, it would cost about 5m euros ($ 5.6m). According to the officials, the building is to be given two pointed gables, with the original structure remaining as it is, the yellow color of this building would be changed into white,  a rock outside the building which says "Fascism never again" would be moved to the museum in Vienna the capital of Austria, but the local historians there think otherwise, they believe that the stone should remain here in Braunau.
The government after a long cycle of legal disputes with the owner of this house Gerlinde Pomer finally bought this house under a purchase order, but before that the Austrian High court ruled that government could take control of the house and would provide compensations to the owner. In 1970 Pomer rented the house to the interior minister, things ran smoothly until in 2011 when the owner refused to sell the house and stopped the renovation works that were going on. It was only last year that the government bought the house until then it was empty with no activity commencing in it.
During his talk with the reporters, the interior ministry official Hermann Feigner said, "The neutralization of this whole location was ultimately at the heart of this result."
This building is an attraction site for neo-Nazis, who till this very day, sympathize with the teachings of Hitler who was a fascist dictator, who promoted mass murder and genocide. To halt their activity and further promotion of such malicious concepts, the government decided to convert it into a police station in order to neutralize it.
"A new chapter will be opened for the future from the birth house of a dictator and mass murderer," Austrian Interior Minister Karl Nehammer told reporters on Tuesday.
The officials said that the redesigning process of the building would complete till November.
Hitler born in 1889 never got to spend time here, as he was only three when his family left the town permanently.
The concepts and movements introduced by the Nazi Germany was often rejected by the Austrians and they considered themselves and showed others that they were victims of his Regime, but they do also acknowledge their own illegal alliances with the crimes of Nazi.