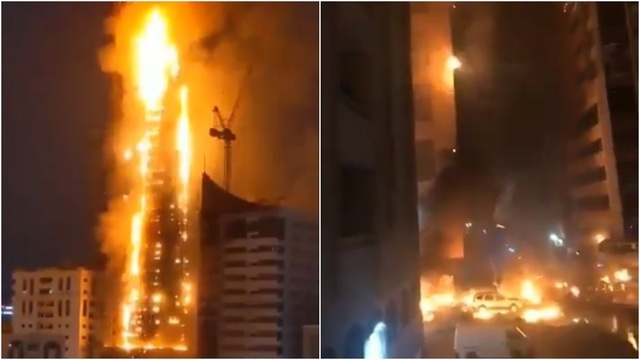 A 48-story skyscraper in Sharjah, one of the biggest cities of UAE, has beset by a massive blaze of fire. The deadly incident took place on Tuesday.
A clane of firefighters made efforts to put out the fire. The police corp also surrounded the building. Many of the spectators gathered at the spot to know what actually happened.
Fire breaks out in Sharjah building

Details…https://t.co/ECgPVKKWVk

Video by Abhishek Sen Gupta/Khaleej Times pic.twitter.com/aEyzjbihPh

— Khaleej Times (@khaleejtimes) May 5, 2020
No fatalities were reported, though seven people got injured and were taken to the hospital for medical treatment.
Authorities did not give any authentic information regarding the reason for the fire.
Prior to this incident, Sharjah, a city of UAE with tall-buildings all around, has also experienced the related incidents in recent times.
 Cause for the fire is the use of materials in buildings sidings, which are not fire-resistant. 
However, such materials which are blaze-resistant, also present which can be used to build the sidings, building safety experts stated.
They further added, the buildings which have caught the fire anywhere else around the world were not built under safety standards.