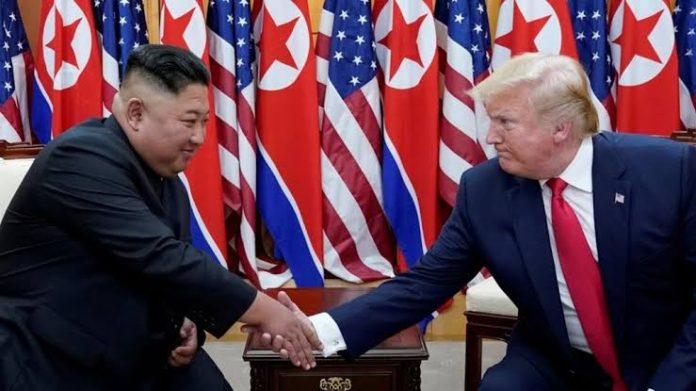 On the sudden emergence of North Korean Leader Kim Jong-un, US President Donald Trump seemed 'glad' to see him publicly and with good health.
Trump's tweet surfaced right after Kim Jong-un re-appearance in a fertilizer factory, cutting a red ribbon in front of the people who were present there.
"I, for one, am glad to see he is back," Trump tweets.
His abrupt disappearance since his grandfather's birthday event that is supposed to be an important event officially, had grabbed hype to the speculations made all around over his health issues.
Recently he appeared in an opening ceremony of a fertilizer factory. Kim can be seen clearly in the footage released by Korean Central News Agency, cutting a ribbon on Friday. 
Still, the doubts exist about the video footage as it is being considered as not-confirmed-news.
To see Mr. Kim safe and sound, the crowd "broke into thunderous cheers of hurrah," KCNA reported.
On Kim Jong-un's health-while all the speculations were circulating on his wellbeing condition-Trump had made his opinion, he had stated, he had a very good idea regarding Mr. Kim's health condition, but can't talk about it, he added further.
' I wish him well,' Trump said.
Two of the well-developed countries have built a strong relationship. Two leaders have seen together thrice since the year 2018.
As per the KCNA, Kim Jong-un was seen with other senior government officials and his sister Kim Yo-Jong. 
Kim Jong-un cut the ribbon at the factory planted in the region north of Pyongyang, and the attendees burst into thunderous cheers of hurrah for their Leader who is leading the all-people general march for gaining the great cause of prosperity," KCNA informed.
Mr. Kim says that he was fully satisfied and happy with the factory's production system and he has praised and congratulated for contributing to the progress of the country's Chemical Industry and food production, the media reports.
Prior to this, Kim Jong had disappeared for 40 days in September 2014 after attending a concert.