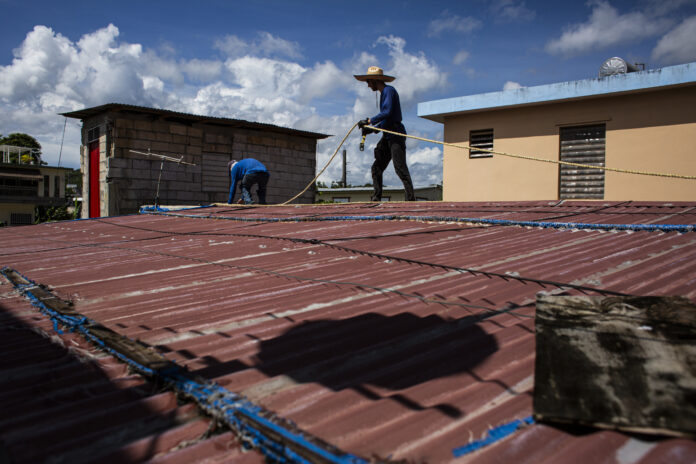 After the devastating hurricanes of 2017, Puerto Rico is still struggling to recover. One of the biggest problems facing the island is the thousands of hurricane-damaged roofs that remain in place. One organization is helping to provide a solution and is actively working to repair these roofs. In this blog post, we will explore the hurricanes and their impact on Puerto Rico's roofs, the group helping to fix them, and how you can support their efforts.
How Puerto Rico's Roofs Were Damaged By Hurricanes
As Puerto Rico tries to rebuild from the damage caused by Hurricanes Irma and Maria, many homeowners are facing a problem: their roofs. Roofs are an important part of any home – not only for their protection from the elements, but also for their functionality. Unfortunately, Puerto Rico's extensive damage caused by Hurricanes Irma and Maria means that repairing these roofs is a major challenge.
Here are some of the challenges faced in trying to repair roofs in Puerto Rico:
– Many of the materials used in roof repair projects, such as asphalt shingles and metal tiles, were damaged by the hurricanes, making it difficult to find replacement materials that are compatible with traditional roofing techniques.
– Many skilled workers who typically work on roof repair projects have been displaced due to the hurricanes, meaning repairs may take longer than usual and may not be done to specification.
– The weather in Puerto Rico is often hot and humid, which can contribute to roof failure.
– In order to receive financial assistance from government or non-profit organizations for roof repair or replacement, homeowners must show proof of damage caused by Hurricane Irma or Maria, which can be difficult if repairs haven't started yet or if parts of the roof have been destroyed completely.
Thankfully, there is one organization working hard to help solve these problems: iRestorRoofs LLC. iRestorRoofs was founded after Hurricane Katrina devastated New Orleans in 2005, so they know a thing or two about dealing with damaged roofs!
iRestorRoofs has mobilized crews across Puerto Rico equipped with the specialized equipment and skillset needed for roof repair projects. They're also working with local businesses and universities to ensure skilled workers are available when they need them most, no matter where you live on the island.
While homeowners won't be able to fix all their roofs themselves, there are many things they can do to protect their homes against future hurricane damage: choose a sustainable roofing solution like solar panels; install storm windows; make sure your attic is properly sealed; install an alarm system; and get insurance coverage for your home contents.
The Group Helping To Fix Puerto Rico's Roofs
Hurricane Maria made landfall on Puerto Rico over a month ago, and as a result, thousands of homes have damaged roofs. This problem is only getting worse as time goes on. Not only are the roofs damaged, but the walls and windows are also in need of repairs.
One group is stepping up to the challenge and trying to help fix these roofs. They are doing this by using an innovative approach that has never been used before in Puerto Rico. The group is called Roofs for Puerto Rico, and they have been working tirelessly to help repair these roofs as quickly as possible.
So far, Roofs for Puerto Rico has repaired more than 2,500 roofs in need of repairs – that's more than any other organization or individual has done in the entire history of Puerto Rico! Their impact on the community has been profound, with many people now feeling hopeful for the future after seeing such tangible proof that there is still good in this world.
There are many ways that you can support Roofs for Puerto Ricos efforts. You can donate money or materials, volunteer your time, or spread the word about their work online. Whatever you do, make sure that you help bring hope and healing to a community that desperately needs it!
How You Can Support The Repair Of Puerto Rico's Roofs
Hurricane-damaged roofs are a problem in Puerto Rico. Not only do they need to be repaired, but many families are also struggling to pay for the repairs. One group is working to help out by crowdfunding donations for roof repairs.
Puerto Rico has been hard hit by numerous hurricanes in recent years, and the cost of repairing the hurricane damaged roofs is immense. Many people cannot afford them and have resorted to living in tent cities or using tarps as roofs. One group is offering a solution by crowdfunding donations for roof repairs. People can donate directly or purchase home upkeep kits to be sent to Puerto Rico which will then be sent directly to families in need. All donations are tax deductible and will go directly towards helping families repair their roofs.
Local volunteers have been trained to assist with installation and repairs, but more volunteers are needed to help with the project. People can also spread the word about this project and how others can get involved and make a difference. Together, we can make a difference in Puerto Rico's recovery!
The Impact Of Volunteering And Financial Support For Roof Repair In Puerto Rico
Hurricane Maria left a lot of damage in its wake when it hit Puerto Rico last year. Not only did the storm cause extensive damage to buildings and infrastructure, but it also destroyed a large number of roofs. This has created a major challenge for the local community – how to repair all of these damaged roofs?
Thankfully, there are many organizations that are currently working to help solve this problem. Some of these organizations are offering volunteer and financial support for roof repair, while others are providing materials and training needed to carry out the repairs. However, finding these organizations can be difficult, especially in rural areas where most people have lost power due to Hurricane Maria.
The repairs that have been carried out so far have had a positive impact on communities both in the short and long term. For example, by repairing roofs communities can reduce their risk of experiencing future hurricanes. Additionally, by creating sustainable solutions that can be adapted over time, organizations can ensure that their work has lasting benefits for the local community. These examples show how volunteers and donors can make a real difference in communities recovering from natural disasters – don't hesitate to get involved!
In Short
The roofs of Puerto Rico were severely damaged by the devastating hurricanes of 2017 and 2018. It is encouraging to know that organizations like Roofs for Puerto Rico are doing their best to help repair the roofs of those in need. If you would like to support this worthwhile cause, consider making a donation or volunteering your time. Every little contribution helps! Together, we can make a difference in the lives of those affected by these natural disasters.