Russia has seen the daily rise in cases due to novel coronavirus, recording reported infections  figure  up to 10, 633 in just 24 hours.
With aggregate bringing to 134,686, Russia has now become the  7th dangerous sport in the world due to COVID-19. Though, its mortality figure is lower as compared to any other country.
The total death figure has jumped up to 1,280 in Russia with 58 more deaths recorded on Sunday.
The city of Moscow, Russia, is now a hotspot, with its healthcare units at high risk due to a lack of medical protective gear.
On Saturday, Moscow's mayor Sergei Sobyanin warned against complacency, saying the capital was not past the peak of its coronavirus epidemic.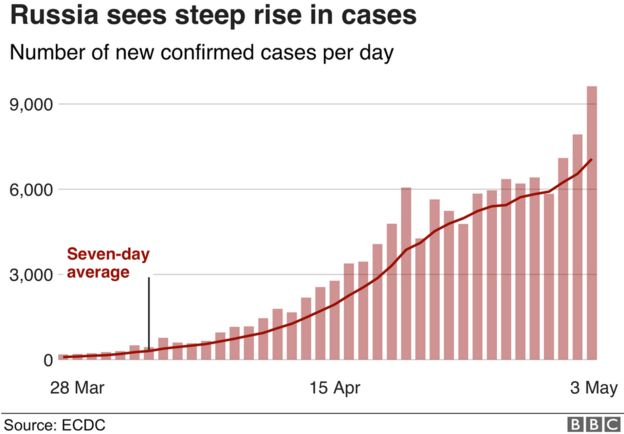 According to what Mr. Sobyanin figured out,  2% of the total population that makes the figure 250,000, has been tested positive for COVID-19. In Moscow, Sunday's cases reached 5,948, bringing the total to 68,606 cases.
Moscow has been facing heavy lockdown as the people have been strictly ordered to maintain social distancing and quarantine at their homes. On the other hand, President Vladimir Putin has cautioned its citizens about the serious situations in the coming weeks ahead.
"The situation remains very serious, we have to brace for gruelling phase of the pandemic in weeks ahead," he said.
Prior to this, Russia's Prime Minister Mishustin declared publicly that he had been tested positive for COVID-19, the first senior political figure of the country to have a disease.
Another senior minister Mr. Vladimir Yakushev has been tested positive for coronavirus on Friday.
The total daily figure for cases is surging here. The Russian Authorities have now increased the testing figure, 40,000 tests are being carried out in just a single day in Moscow alone.
As per the Authorities, more than half of the fresh cases are those having no symptoms for COVID-19 such as the healthcare department, being tested with screening.
Virus is besetting the regions of Russia where there is a lack of medical equipment and healthcare workers are compelled to work in such conditions. However, workers have made complaints about having no protective gears such as masks and clothing.
About 17,00 people are being admitted to hospital on a daily basis in Moscow, stressing the pressure on the system.
Mr. Putin has expanded the lockdown until 11 May but the lockdown would be eased from 12 May, depending on the condition of areas.